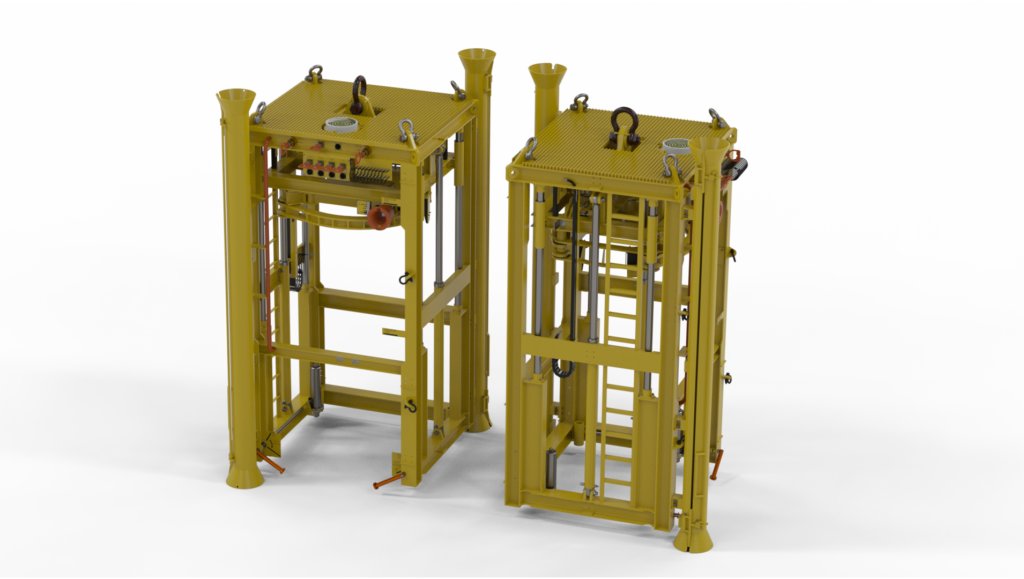 The Actuator Running Tool (ART) is designed and tested for retrieval and installation operation of subsea hydraulic actuators up to 10.500kg. The key features include a DNV 2.7-3 lifiting frame and an adjustement mechanism integrated.
The Actuator Running Tool lands on a subsea structure using configurable guidepost and mini-guide posts for fine guiding. Integrated soft-landing cylinders ensure controlled landing speed. The lifting operation within the ART is operated hydraulically through standard API17H Hot Stab receptacle. Connecting to actuator is done by clamping and is operated by API17H Class 4 Torque Tool. Interlocks are mechanical and operated by ROV.
The tool, engineered and constructed by Innova, was successfully delivered to Advanced Technology Valve for a major project in South America. The ART has successfully been tested with 5-degree offset on landing base, and integrated adjustment cylinders (pitch, roll, x- and y-plane movement) are to be used for alignment with valve.
See below a video of our team performing the 5-degree instalation test.
We are passionate about technology. Contact us today and learn how we are powering the future.