In-House cable moulding and termination capability
Combining a large stock of high quality subsea connector and cables, Innova offer custom cable assemblies.
Representing and stocking world known brands like Burton, Seacon, Gisma and Hydrovolt , we can offer a quick turn-around on the most commonly used connectors whether supplied individually or as part of an assembly.
We provide reliable cables for the most demanding environments whilst meeting customer requirements. Our highly trained technicians will help to find the best possible solution for you.
Cable and connector termination
Water blocks
Splice – multiple breakouts
Oil filled hose and standard dry mate connectors
Encapsulation of PCB boards and RF-id.
Insulation testing
Cable tags
Solidworks, CAD drawing and required documentation
On site test, repair, termination & moulding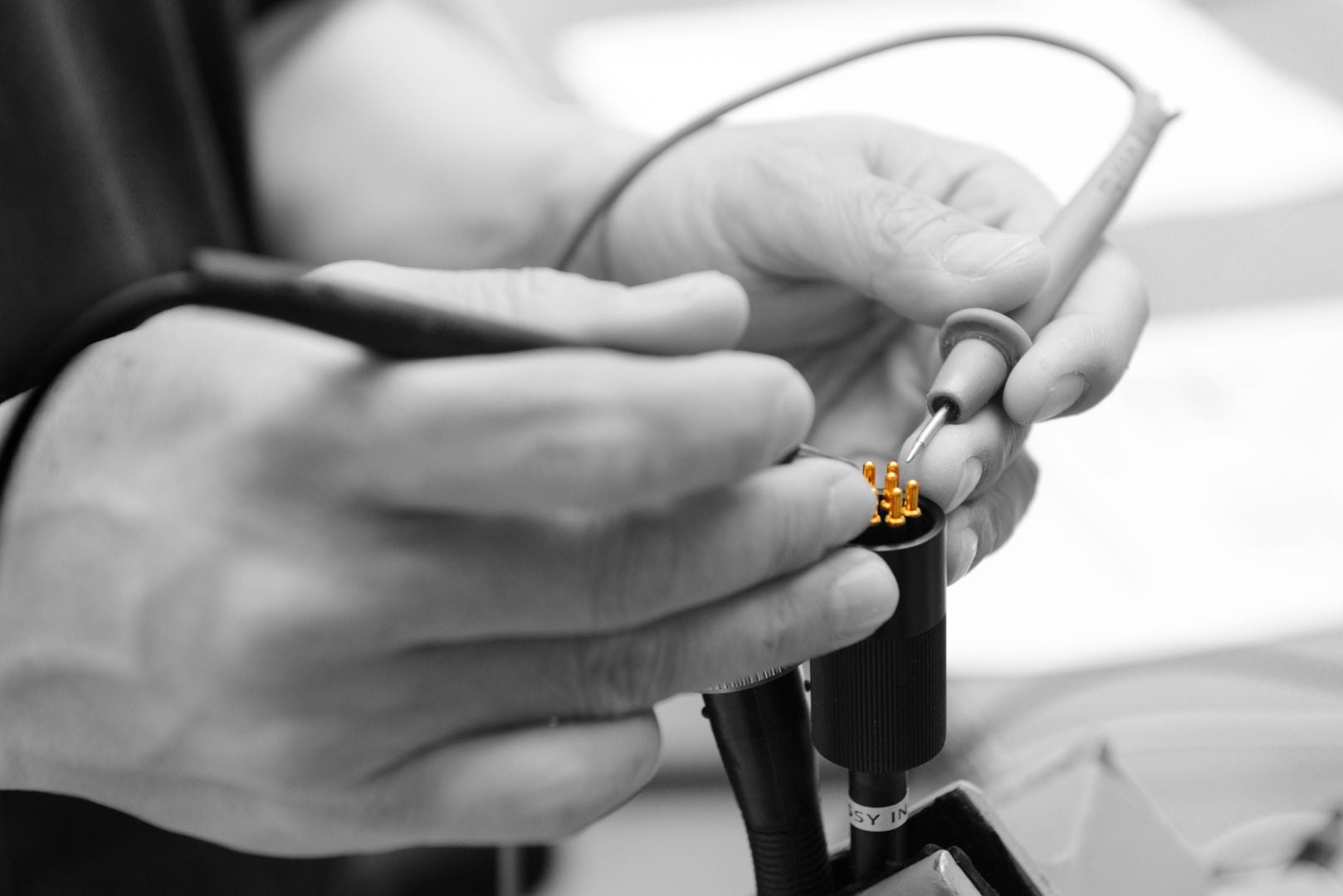 Camera Cable, 3 coax, 1041477
3 x RG179 75ohm coax
3 x 1,5 mm²
1 x 0,22 mm² Screened Twisted Quad
Camera Cable, twin coax, 1041001 
2 x RG179 75 ohm coax

4 x 0,5 mm² STP plain copper conductors

Polyester braid
Camera Cable, Mini TV Cable, 1031073
1 x 75 Ohm coax
1 x 1,34 mm² plain copper conductor
1 x 1,34 mm² STP plain copper conductor
1 x 0,5 mm² STP plain copper conductor
1 x 0,22 mm² STP plain copper conductor
Camera Cable, 1 coax, 8 single, 2 quad, 1031071
1 x URM70 75 ohm coax
8 x 1,0 mm² stranded plain copper (Uo/U = 0.3/0.5 kVrms max)
2 x screened 0.22 mm² Copper twisted quads
Braided Vectran fibre strength member.
Ethernet Cable, Cat6, 1071757
4 x (2x26AWG) Cat 6, Flexible Bare Copper 19 x 0,10 mm
4 x 1.0 mm² Extra Flexible Bare Copper, according to IEC 60228, Class 6
2 x (2x0,5 mm²) Extra Flexible Bare Copper, according to IEC 60228, Class 6
Camera Cable, 1 coax, 9 x 22awg, 1059772
9 x 22 AWG standard tinned copper
1 x 75 Ohm coax
Water blocking compound filler
Aramid fiber braid Strength Member
Power/signal cable, 1051554
8 x 1,0 mm² standard copper according to IEC 60228 Cl. ≥ 5
Water blocking compound filler
Embossed Aramid braid strength member
High voltage cable, 1069886 
3 x 10 mm², (80/0,4 E.P.R Insul)

3 Polypropylene fillers (3,4mm dIa)  
A wide selection of subsea cables also available upon request