Innova Researching How to Detect Oil Thefts in Nigeria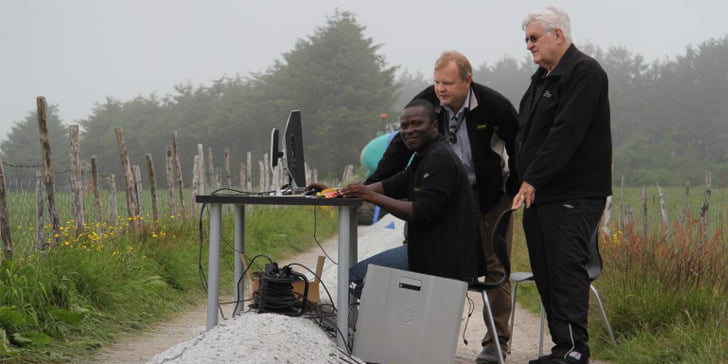 New device aims to reduce pipeline oil thefts, thus reducing threats to human health and the environment.
Dr. Jasper Agbakwuru, Eilif Eriksen and Professor Ove Tobias Gudmestad at the research site in Jæren, Norway. Photograph: Oda-Karoline Rosland Eilertsen (Jærbladet).
Ten percent of the oil produced every day in Nigeria is stolen. Pipes installed through the Nigerian countryside give ample opportunity for thieves to drill holes into pipes and steal oil. This poses dire consequences for human health and the environment as holes leak oil long after a theft has occurred. Can anything be done to prevent theft-related pollution and pipeline vandalism?
Innova, the Sandnes-based firm specializing in underwater technology, believes the answer is yes. Together with the University of Stavanger, Shell, and National Instruments, Innova is working on a research project that aims to find a solution to pipeline thefts through the development of a device that can detect when someone is attempting to steal oil. Shell provided financial support for this work in anticipation of using this technology in the future.
A long way from the oil fields of Nigeria on a farm in Southwest Norway, Innova Senior Engineer Dr. Jasper Agbakwuru is conducting research that will help solve this problem. Through experimentation and sound recordings, Dr. Agbakwuru is discovering how sound waves are transferred and damped when a hole is drilled into an oil pipeline from a variety of distances and environmental situations. The results of his research are being fed into the development of a new instrument that detects drilling into a pipeline from distances as far as several kilometers away.
Why are people stealing oil from pipelines in the first place? Professor Ove Tobias Gudmestad at the University of Stavanger (UiS), Norway, says oil thefts aren't occurring in developed countries. This leads him to believe that extreme poverty is a key reason why people drill into pipelines to steal oil. Unfortunately it worsens the conditions for these populations, as the costs of this practice are so detrimental to human health and the environment. According to Professor Gudmestad, "Developing a way to detect and, even better, to prevent oil spills would protect human lives and the environment from the resulting pollution. We believe this research will contribute towards finding a technological solution to prevent oil thefts from occurring in the first place."
The sound wave signals are being processed and analyzed over the next few months. Mr. Eilif Eriksen, Managing Director of Innova, aims to have this yet-to-be-named device operating in Nigeria in 2014. Other countries reporting an increase in pipeline oil theft, such as Ecuador and Brazil, would also benefit from using the device to prevent thefts.
Further Reading/ References:
Oljeforskning på jærsk gårdsvei, Jærbladet: http://jbl.no/index.php?page=vis_nyhet&NyhetID=29661(In Norwegian).
Nigeria loses $11bn to oil theft, vandalism , Neiti: http://www.vanguardngr.com/2013/07/nigeria-loses-11bn-to-oil-theft-vandalism-neiti/#sthash.cLBUNyzk.dpuf (In English).